Mungkin sekitar 2 tahun terakhir ini sedang hype banget istilah Technopreneur ini di Indonesia, terutama di kalangan pelaku bisnis. Sudah banyak yang mulai memberikan sentuhan teknologi pada bisnis yang sudah dijalankan atau muncul pelaku bisnis baru terutama di bisnis IT itu sendiri.
Pelakunya pun beragam, dari mulai kalangan pemain lama di dunia bisnis, mantan pegawai hingga kalangan mahasiswa. Tapi tidak masalah, karena hal seperti ini bagus bagi Indonesia kedepannya.
Kali ini saya mau sharing tentang salah satu cara untuk memulai bisnis dengan memanfaatkan teknologi, terutama bagi kalian yang masih berstatus sebagai mahasiswa.
Ada dua bagian utama yaitu bagian Perencanaan dan Eksekusi.
Perencanaan
Pada bagian perencanaan ini ada beberapa hal yang harus diperhatikan seperti :
Ide Bisnis. Untuk mendapatkan sebuah ide bisnis tidaklah harus yang super kreatif dan beda dari yang lain, bisa saja sama idenya dengan orang lain, tapi bedakanlah eksekusinya. Ide juga bisa didapat dari hobi, passion, atau kegiatan penting gak penting yang disukai, tapi ingat, harus bisa di-monetize, sustainable dan jangan bertujuan untuk dibeli orang.
Jadikan monetize sebagai fitur utama, jangan sampai kamu bikin bisnis/produk yang bagus banget tapi akhirnya bingung bagaimana cara mendapatkan penghasilan dari produkmu. Beberapa cara monetize pada bisnis IT bisa dilakukan seperti paid download, in apps purchase atau advertisement. Masing-masing cara monetize pun punya strategi tersendiri.
Konsumen/Market. Pilih big market potential, yang semua orang bisa menggunakan produkmu. Setelah itu barulah di analisis, bagaimana cara agar konsumen betah untuk menggunakan, lokasinya tidak terbatas, menggunakan device apa, menggukan OS apa, dll. Selain itu juga perlu perencanaan penanganan review konsumen, karena biasanya konsumen jarang memberikan review baik, tetapi kalau tidak suka bakal lebih mudah untuk memberikan review buruk.
Resource. Pebisnis pemula pastilah masih belum banyak mempunyai resource, baik itu modal ataupun sdm. Oleh karena itu, ambil terlebih dahulu fokus bisnis yang memberikan solusi pada satu hal, tetapi lakukanlah dengan baik dan benar.
Eksekusi
Setelah selesai pada perencanaan, nah bagian yang paling berat sebenarnya telah menanti di masa depan, yaitu eksekusi.
Partner. Temukan parner yang seritme sama kalian, bisnis ga akan bisa jalan jika yang menjalankannya saja tidak sejalan. Selain itu juga harus bisa menerima kalian apa adanya, tapi tetap harus saling professional.
Komitmen. Hal ini mungkin salah satu yang agak susah dipertahankan. Tidaklah mudah berkomitmen dengan partner untuk merintis suatu bisnis dan berjuang bersama dari awal.
Waktu. Pastikan waktu kalian tepat untuk memulai bisnis, karena waktu eksekusi awal kebanyakan akan memakan waktu yang cukup lama.
Motivasi. Menjaga motivasi untuk menjalankannya inilah menurut saya yang paling penting, karena waktu dari eksekusi bakal banyak dipengaruhi.
Strategi Pengembangan Bisnis. Setelah awal eksekusi berjalan, harus dipikirkan juga bagaimana cara agar bisnis kalian bisa berkembang dan menjadi besar.
---
Mungkin itu dulu sedikit tentang menjadi technopreneur menurut pendapat saya. Semoga nantinya banyak lahir technopreneur Indonesia yang bersama-sama membangun bangsa ini dengan bisnis dan teknologi.
Satu kutipan yang saya ambil dari Dennis Crowley (Founder Foursquare) untuk menutup artikel ini.
If there's something you want to build, but the tech isn't there yet, just find the closest possible way to make it happen.

Dennis Crowley
@ariffsetiawan
---
Info MBA ITB dan kompetisi blog : http://www.sbm.itb.ac.id/mba/
Fans Page kompetisi blog : MBA ITB Blog Competition
Disclaimer
I hereby declare that my article entitled Tentang Menjadi Technopreneur is a work of its own and has not been submitted in any form to any competition or social media posting. Sources of information derived or quoted from published and unpublished works from other authors mentioned in the text. If I am caught doing plagiarism or any other cheating attempt. I am ready for the consequences, as my winning rights are revoked.
Bandung, Mei 2013
Arif Setiawan
---
Data Diri
Nama Lengkap : Arif Setiawan
Email : ariffsetiawan@gmail.com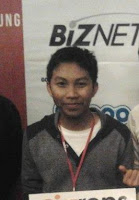 → 146 readers