Ungkapan Nuhun PHP merupakan ungkapan terima kasih kepada PHP. Ternyata hari ini tanggal 8 Juni 2015 bertepatan dengan hari lahirnya PHP, 20 tahun yang lalu.
Bagi kami para Web Developer, PHP adalah suatu yang sangat spesial. Sebagian besar waktu kami dihabiskan bersamanya.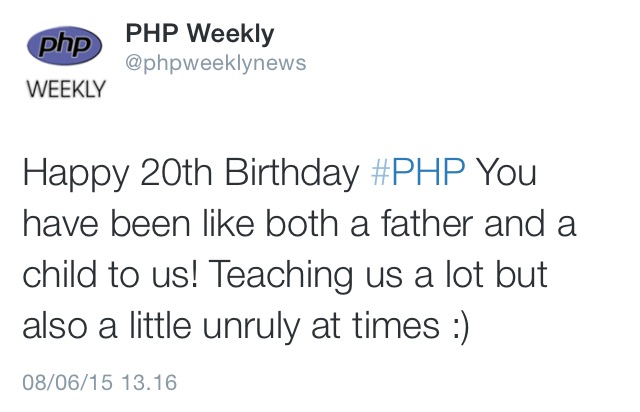 PHP adalah kawan belajar, kawan bereksperimen, kawan begadang hingga kawan untuk mencari nafkah.
Dari jaman dia masih polos hingga kini tak terhitung berapa kerangka kerja yang bisa dibangun untuk menjalankannya. Seperti kata PHP Weekly, dia sudah bagai 2 peran, sebagai ayah dan anak.
Apalah kami tanpanya.
Dialah yang selalu memberi dan tak harap kembali.
The most fun and friendly language. PHP sendiri merupakan akronim dari PHP: Hypertext Preprocessor. Sebuah akronim yang mengandung rekursif di dalamnya.
Sebentar berkenalan dengannya langsung berasa sudah mengenalnya sejak lama. PHP bakal semakin berkesan jika diajak main bareng dengan kawan-kawannya yang bernama HTML dan JavaScript serta MySQL.
Dari hari ke hari dia selalu memperbaiki diri, meskipun progresnya tak secepat kawan-kawannya yang lain. Tapi masih dan sudah terlalu banyak yang suka atau mungkin bisa dibilang nyaman berkawan dengannya.
Sudah banyak yang mencaci tetapi masih banyak yang setia dengannya. Dibilang love-hate relationship pun sepertinya juga tidak bisa. Sampai sekarang sebagian besar website di dunia masih menggunakannya.
Nuhun PHP. Dan sekali lagi, selamat bertambah usia.

→ 194 readers