The Onion Collective Ubud merupakan salah satu tempat yang memproklamirkan diri sebagai "Temple of Chill" di Ubud. Tapi memang benar, tempat ini mempunyai banyak hal yang ditawarkan dan dapat memenuhi ekspektasi pelanggannya. Didesain sebagai kombinasi dari coworking, coliving dan collaborating.
The Onion Collective Ubud yang berlokasi di sekitar Jalan Raya Pengosekan, Ubud, Gianyar, Bali ini memiliki semuanya.
Coworking
Sebagai coworking, The Onion Collective Ubud ini dapat dijadikan alternatif untuk bekerja jika coworking space yang sangat hits di Ubud sudah tidak kondusif untuk get shxt done sambil chill. Terdapat sebuah Passion Lab berupa venue yang fasilitasnya seperti internet cepat, podcast studio, free coffee-tea-water, desks, standing tables, conference room dan 10% diskon untuk restoran. Sudah termasuk lengkap banget untuk sebuah coworking space dan enaknya lagi terdapat membership harian, mingguan hingga bulanan. Dan status bayarnya sebagai donasi. Whaattt?
Dan mungkin bagi yang belum bisa menemukan passionnya bisa mencoba ke sini? #eh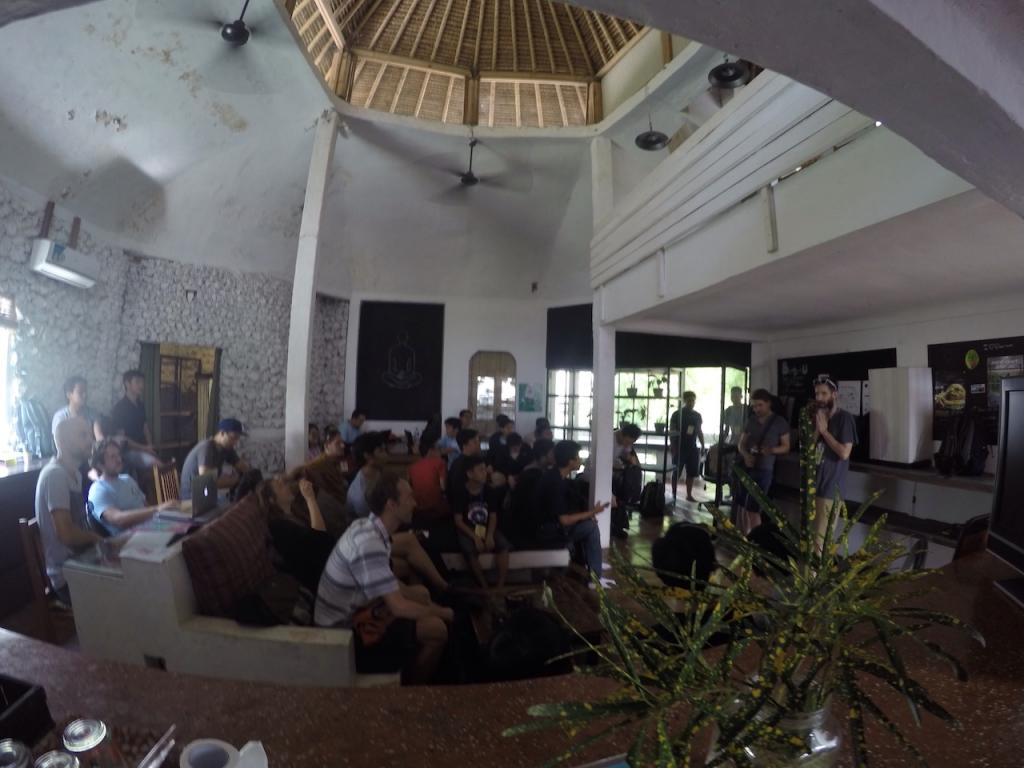 Coliving
Sebagai coliving, The Onion Collective Ubud ini menawarkan sebuah homestay yang terdiri dari private rooms dan dorm rooms dengan nuansa kayu dan bambu yang cozy dan artsy. Selain itu juga terdapat kolam renang yang menjadikan suasananya Ubud n chill banget. Work-life-balance beneran lah.
Collaboration
Terdapat sebuah restoran di area depan dan dekat dengan kolam renang dengan sajian menu khas Asia.
Restoran ini bisa digunakan untuk acara makan sambil networking, terhubung dengan global network travellers dan profesional untuk sharing skill atau pengalaman untuk mengembangkan usaha baru atau kolaborasi, berkumpul dengan komunitas atau sekadar bersantai dengan teman.
Jika beruntung, kita dapat sambil menyaksikan live music-nya juga.
***
Saya baru pertama kali ke tempat ini, itu pun karena mengikuti rangkaian acara WordCamp Ubud 2017 yang berlangsung selama dua hari. Hari pertama adalah conference day yang dilaksanakan di Hubud dan hari kedua adalah contributor day yang dilaksanakan di The Onion Collective ini.
Kesan pertama adalah tempat ini asik bangeeettt, sangat mendukung buat productivity booster, rasanya jadi semangat mau ngapa-ngapain, termasuk kerja berjam-jam, hahaha.
Bagi kalian yang sempat ke Ubud dan bisa stay agak lama sambil bekerja di sana, saya sangat merekomendasikan untuk mencoba tempat ini. Saya pun jika ada kesempatan lagi untuk stay di Ubud bakal bekerja dari tempat ini juga (selain dikombinasikan dengan mencoba kedai-kedai kopinya juga).
Happy Working All! 😀
→ 165 readers