Meski WordCamp Jakarta 2019 kali ini tidak seperti dua WordCamp sebelumnya yang diadakan di Denpasar dan Ubud, yang mana tempatnya emang asik banget, tetapi saya tetap bersemangat untuk mengikuti karena memang komunitas WordPress pasti antusiasmenya sangat tinggi jika berkaitan dengan sebuah meetup.
Berlokasi di Jakarta, tepatnya di Ibis Styles Jakarta Sunter. Wow, Jakarta Utara lokasinya. Jarang-jarang ini event teknologi ada di daerah sana.
WordCamp Jakarta 2019 ini adalah kali ketiga saya mengikuti acara WordCamp. Format acara dari WordCamp Jakarta ini adalah seminar durasi 1 hari yang pematerinya dari berbagai daerah dan aktif menggunakan platform WordPress dalam kehidupan sehari-harinya.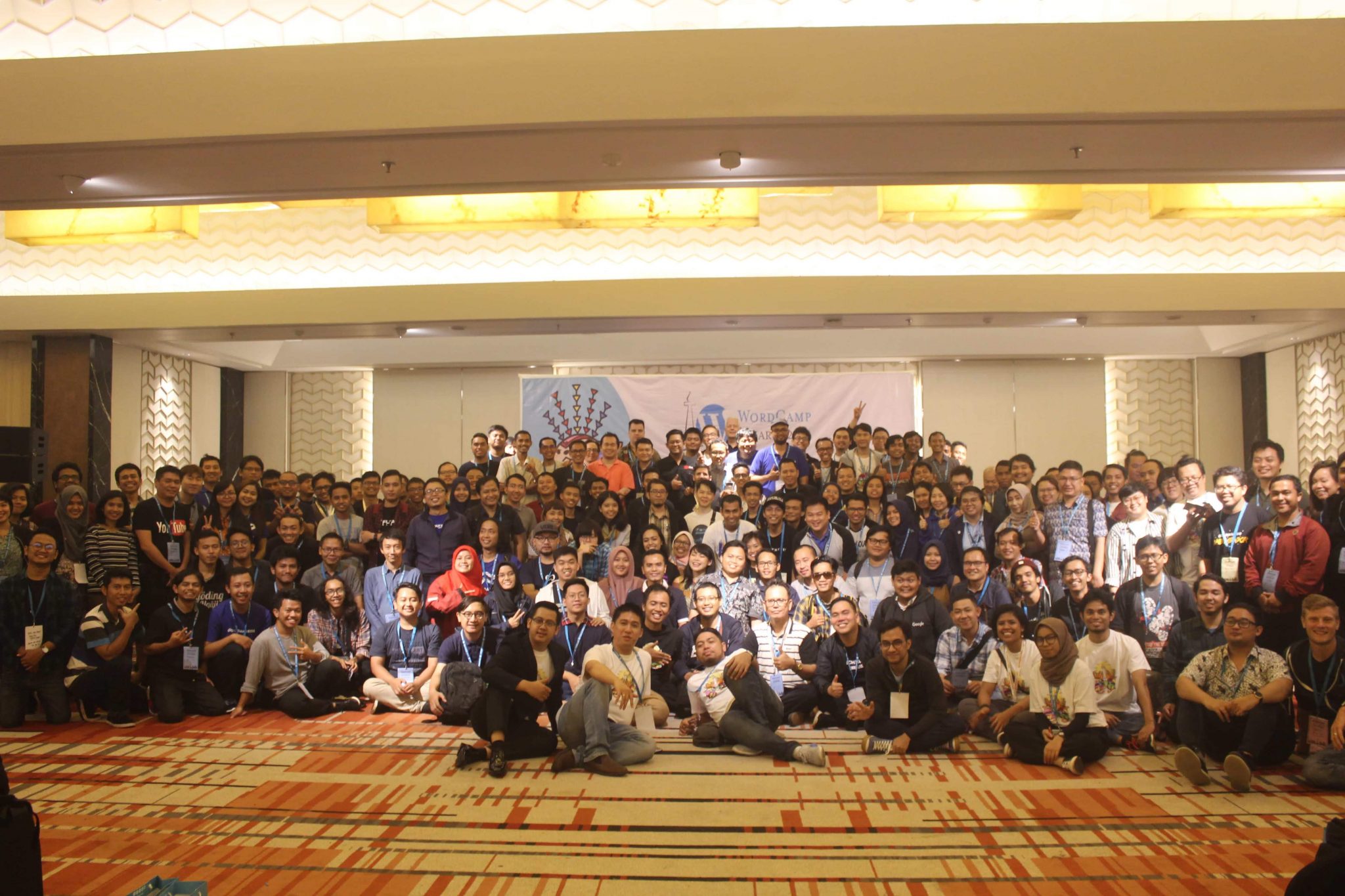 Seminar dibagi menjadi 2 kategori, yaitu teknis dan non-teknis. Tentu saja saya memilih di bagian teknis.
Setelah seminar, acara ditutup dengan sesi workshop yang terbagi menjadi beberapa kategori, yaitu :
SEO, Google Analytics and Search Console
Themes Development
Plugin Development
Auditing and performance optimization using modern web API
WordPress Translation
Gutenberg tutorial
Setting up eCommerce with WooCommerce
Disela-sela acara diberikan 2 kali waktu coffee break yang bisa dimanfaatkan untuk networking dan mengambil merchandise-merchandise yang disediakan oleh sponsor serta 1 kali waktu lunch yang disuguhkan hidangan khas Indonesia yang bisa dinikmati sambil bercengkerama dengan peserta lain. Yang paling menarik tentu saja adanya beberapa game yang disediakan di booth sponsor.
Ada satu lagi hal yang paling ditunggu-tunggu oleh peserta dalam acara kali ini, yaitu karena adanya undian drone sebagai doorprize utama, mantap sekali, haha.
Karena yang berpartisipasi di event seperti ini sebagian besar memang developer maka tak heran jika ada perusahaan yang memanfaatkannya sebagai ajang untuk hiring. Sudah biasa, memang developer selalu dicari, wkwk.
Setelah acara selesai, tidak ada after party seperti WordCamp yang pernah saya ikuti sebelumnya. Ya bingung juga si kalo di daerah Sunter mau after party di mana ya?
Alhasil langsung bergegas pulang saja.
---
Lagi-lagi saya mendapatkan banyak hal dari acara ini, ya itulah salah satu alasan kenapa rajin ikut acara meetup. Selain mendapatkan ilmu baru tentang scalability, dapat ilmu tambahan juga tentang search engine dan performansi website.
Sampai jumpa di WordCamp selanjutnya!

→ 149 readers