Sebenarnya nama warungnya itu C'mar, berhubung di atasnya ada tulisannya NASI EDAN makanya saya kasih nama Nasi Edan, Lokasinya di Jl. Terusan ABC, di belakang Gedung Merdeka, Bandung. Tapi beneran edanlah, soalnya yang bikin edan harganya, saya yang cuma ngambil menu nasi+gulai+sayur kacang+krecek+usus+es teh manis dapet tanggungan membayar Rp 23.000,-.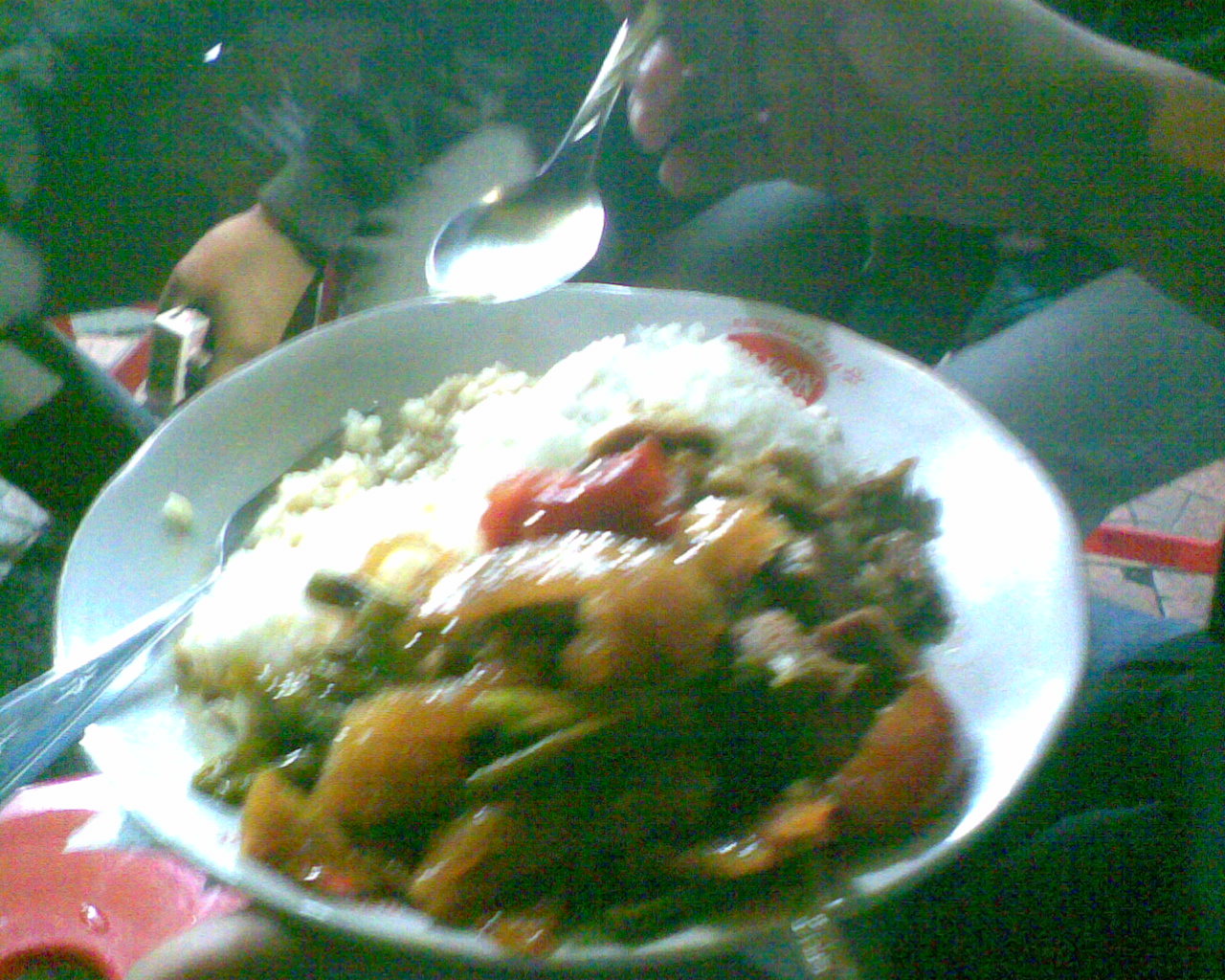 Langsung shock sebenarnya, tapi mau gmn lagi, harus diikhlasin. Tapi bagi saya kurang recommended ni tempatnya bagi yang suka kuliner, soalnya tempatnya juga tidak mendukung harganya. Kita² yang bayar segitu cuma makan di atas kursi tanpa meja, huffh. Dan ini menjadi wisata kuliner saya yang fenomenal selama ini,hehe. Ga lagi² dh kesitu.
Nah, setelah itu kita lupakan kesedihan kulinernya, langsung menuju ke BIP buat nonton, tp udah ditutup BIPnya ga tau knp,hehe. Langsung cabut ke BSM dah, dan masih dapat tiket buat pemutaran terakhir From Paris With Love hari itu :).
Review From Paris With Love:
Reese merupakan seorang agen mata-mata yang cuman berhasil mendapat kasus yang ecek-ecek, dia di kedokkan sebagai asisten dubes Amerika di Prancis. Promosi akhirnya tiba, dan dia ditugaskan tidak tanggung-tanggung untuk membasmi teroris hingga ke akar-akarnya. Kali ini dia disuru menemani Wax, agen yang suka seenaknya sendiri, akan tetapi Wax jago berkelahi. Aksi mereka pun dimulai tanpa istirahat, hingga akhirnya Reese pun mendapatkan kenyataan bahwa ternyata tunangannya terlibat dalam permasalahan ini. Akankah Reese memilih negaranya atau tunangannya ?
Comment:
John Travoltanya keren, Reese juga, tapi sepertinya lawannya kesannya kurang jago, karena bisa menang terus, tapi endingnya tak terduga. Mantap dh
thx 4 reading 😀
→ 7 readers