Membahas tentang Xiaomi Amazfit Bip tidak bisa tanpa membahas tentang smartwatch, keberadaannya sebenarnya sudah sejak lama, tetapi memang baru menjadi tren dan mainstream di akhir-akhir ini. Dengan semakin maraknya smartwatch dari berbagai brand, seperti Apple, Samsung, Asus, Huawei, dll.
Hingga saat ini sudah bisa dibuat artikel semacam 10 Smartwatch terbaik di tahun 2018. Ya, se-mainstream itu sekarang.
Di tahun 2015, saya sudah termasuk salah satu yang mengikuti tren ini. Kala itu saya dan beberapa teman sudah mempunyai perangkat wearable yang bernama Fitbit Charge HR. Bentuknya lebih mirip ke gelang fitness tracker daripada smartwatch yang banyak beredar sekarang, layarnya masih kecil.
Di awal tahun 2018, ternyata perangkat Fitbit yang selalu saya gunakan sudah memasuki usia senja dan sudah tidak layak digunakan lagi setelah mengalami proses pengeleman beberapa kali, haha.
Sempat berpindah ke jam digital biasa, tetapi apa daya masih minat untuk memakai smartwatch, ya jadinya masih tetap mengikuti produk apa saja yang beredar di pasaran.
---
Setelah setia berselancar di online shop untuk memantau beberapa produk smartwatch, dan akhirnya mendengar bahwa Xiaomi akan meluncurkan beberapa varian produk smartwatch. Saya senang sekali, karena Xiaomi memang salah satu perusahaan yang selalu meluncurkan budget friendly product. Jadi saya merasa mungkin akhirnya akan menemukan salah satu kriteria smartwatch yang saya cari. Ya, salah satu yang saya kurang suka dari beberapa produk yang sudah ada di pasaran adalah umurnya yang terlalu singkat dalam hitungan hari saja.
Salah satu varian yang akhirnya menjadi favorit saya adalah Xiaomi Amazfit Bip ini. Menurut saya ini best value banget, dan sesuai dengan apa yang saya cari.
Beberapa keunggulannya yang langsung bisa membuat saya jatuh hati dan tidak berpikir dua kali untuk pre order adalah :
1. Battery Life
Daya tahan baterainya yang bisa sampe 1 bulan dalam satu kali charge adalah salah satu yang membuatnya luar biasa. Bayangkan jika dibandingkan dengan beberapa produk lain yang hanya bisa bertahan 3-5 hari atau bahkan 1 hari saja.
Saya sudah harus nge-charge laptop dan smartphone setiap hari, rasanya agak sulit jika harus ditambah nge-charge jam tangan setiap hari juga.
2. Design
Desainnya yang compact dan simple seperti irisan antara Apple Watch dan Pebble Time buat saya sangatlah menarik. Ditambah kita dapat memilih berbagai macam watch face sesuai dengan keinginan.
Untuk mengaktifkan layar touchscreen kita harus terlebih dahulu menekan tombol di samping perangkat. Pertamanya mungkin sedikit menyebalkan, tapi setelahnya kita bisa menerima mengapa didesain seperti itu setelah menyadari betapa mudahnya layar tersentuh terutama ketika sedang berolahraga.
3. Price
Untuk harga jangan ditanya lagi. Karena dipasarkan di bawah brand Xiaomi sudah pasti budget friendly. Produk ini dibandrol dengan harga $99.99. Namun, karena saya menggunakan sistem pre order, saat itu dapat diskon dan dapat harga sekitar Rp 800.000.
Untuk saat ini pun harganya sudah turun di sekitar Rp 800.000-an juga.
4. Fitness Tracker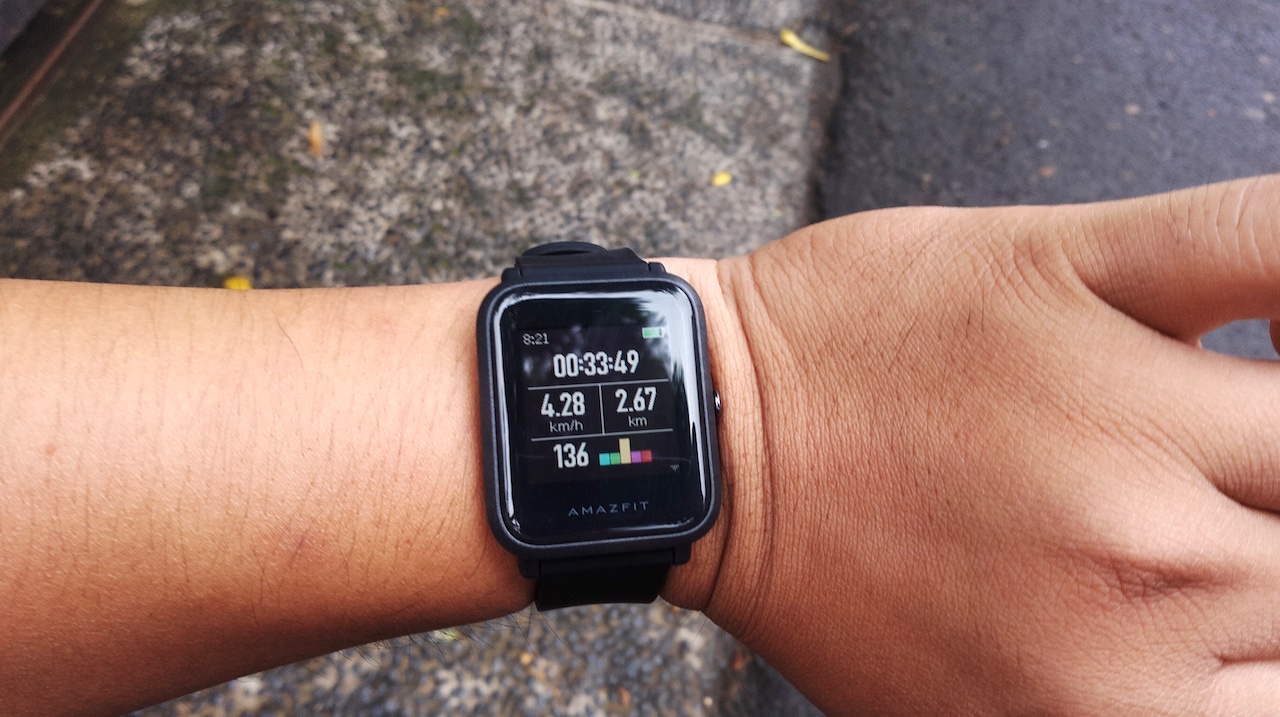 Entah kenapa saya memang tidak terlalu suka smartwatch yang terlalu banyak fitur yang diintegrasikan dengan smartphone semacam notifikasi, telpon, dll. Oleh karena itu, dengan adanya fitness tracker saja sudah cukup. Yang sangat signifikan adalah kita tidak harus membawa smartphone jika sedang berolahraga. Karena nanti bisa disinkronkan menggunakan aplikasi mobile Mi Fit. Praktis dan signifikan sekali bedanya.
Xiaomi Amazfit Bip ini juga sudah ada bawaan GPS-nya, yang bisa divisualisasikan secara sederhana setelah kita melakukan aktivitas. Beberapa macam aktivitasnya seperti : Outdoor Running, Treadmill, Cycling, dan Walking.
5. Mi Fit
Dukungan aplikasi Mi Fit untuk smartwatch bisa dibilang sudah sangat bagus.
Untuk aktivitas olahraga, data hasil dari fitness tracker setelah dilakukan sinkronisasi akan divisualisasikan dengan cukup apik. Sedangkan data aktivitas sehari-hari juga masih akan tersimpan dan bisa disinkronisasi ke aplikasi mobile dalam rentang waktu seminggu terakhir (kalau tidak salah).
Data-data yang bisa direkam antara lain :
Daily Steps
Heart Rate
Sleeping Habit
Workouts
Weight History (input manual atau sinkronisasi dengan Mi Body Scale)
---
Selain beberapa keunggulan yang saya sebutkan di atas, masih ada juga beberapa fitur yang mungkin sudah lazim ada di sebuah smartwatch, seperti Weather, Alarm, Timer, Compass, dan Notifications.
---
Kesimpulannya saya sangat merekomendasikan produk ini bagi kalian yang minat mencari smartwatch yang low budget dan mempunyai daya tahan baterai yang cukup panjang.
Atau bagi kalian yang masih bingung ingin yang seperti apa, mungkin ringkasan ini bisa membantu.
S928 Sports Watch – Affordable.
Pebble Time Smartwatch – Cheap and Simple.
Samsung Gear S3 – Modern with Lots of Features.
Motorola Moto 360 Sport – Good for Sport.
Xiaomi Amazfit – Budget-Friendly with Great Battery Life.
Huawei Watch 2 – Lightweight and Comfortable.
ASUS ZenWatch 3 – Great Build Quality.
Apple Watch Series 3 – Great for Fitness.
Garmin Fenix 3 – The Best GPS.
KingWear KW88 – A Great Bargain.

→ 12809 readers